It looks really weird with only 6 members, but we're gonna have to get used to this for a while until Kanna returns. The song is nothing special, I'm not saying that i don't like it its just it's not as good as their last single. The PV is kinda disappointing, its not as good as berryz koubou's dakishimete pv. and It's got a 80's feel to it. The girls look good in their outfits, and I like the flashing Bye Bye Bye sign in the background.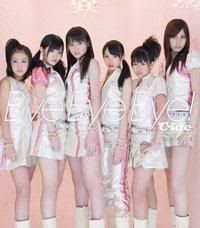 Members:
im gonna make this as short as i possiblely can so lets start with Airi.
Airi didn't get all that much attention in this single, she actually got less lines than maimi this time which i believe has never happened before. although i do think she had one of the best vocals in this single.(i loved her last solo line.) she didn't stick out that much to me this time.

Next up chisa,
chisato really stuck out to me in this single.(not sure quite why)
i loved her vocals, and she looked absolutely gorgeous wit her hair up. i don't think chisa has ever grown her hair out to be that long before, it really looks nice on her. and she finally got a couple of lines. overall i think chisa was really great in this single.
Next is Erika
poor erika she only got one solo line while everyone else got more,
Tsunku should have gave her more solo lines
and she should have been in the middle too, cause she's so tall compared to other c-ute members. its seems that this single was kinda unfair to erika.
Next Maimi
Maimi got more solo lines than Airi, i never thought that would happen.
maimi didn't stick out to me even if she was one of the main leads.(i never have really paid attention to maimi in any single anyway). she looked the same to me nothing different bout her,(but she did look very pretty). her dancing was nice but maimi was blocking chisa, and thats all i can say bout her in the pv.
Next Mai
Mai fnally gets to sing first! her popularity should get a boast from this. lol, when i first listened to the radio rip on youtube of their new single i thought Tsunku had replaced airi wit mai.
Next Saki,
i find it weird that only saki wore long pants. and its kinda sad that saki lost her spot in the center, but im absolutely sure she'll get it back in the next single.
Rated 6/10.